About Cafe Sinouk – Saynamkhong
With an enviable Mekhong riverside view, this location and its spacious terrace opens up to an inspiring and warm sunset view .
Sit back and relax with our homegrown organic coffee straight from the Bolaven Plateau, or pair it with your favourite Lao or Western dish from a selection served at our café .
A small yet cosy space where you can definitely enjoy the quietness of the city , and somehow feel at home at the same time . Once night falls, make a short 10 minute walk and visit the Mekhong Night Market where you can haggle and interact with local sellers and shoppers alike . End your day and catch a ride home at our Café Sinouk Khemkhong branch just across the market .

Wi-Fi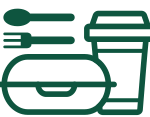 Take Away
Address:
Quai Fa Ngum,
Vientiane Capital
Phone numbers:
+856 20 2223 0579
+856 20 2221 7646