About Cafe Sinouk – Khemkong
This double-storey café bistro is the first centrally located Café Sinouk.
Facing the beautiful Mekhong Riverside, you may enjoy breakfast or brunch and coffee on our Parisian- style terrace on both floors as the sun sets. Or, you could lean back into plush sofas and comfortable to spend special moments in the city centre.

Our menu also include selection of lunch and dinner options With a privileged panorama and a cup of the highest quality coffee in hand it is easy to set worries aside and get involved for a mix of Lao and French inspired decoration and feeling the harmony between local and all foreigners who wants to enjoy genuine local products.

Once the lights of the Mekhong Night Market come alive, a shopping paradise unfolds before you. Besides coffee, you can enjoy cocktails in the evening until 11pm!

Wi-Fi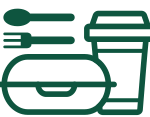 Take Away
Sinouk Coffee Co. Ltd.
Address:
Rue Francois Ngin,
Quai Fan Ngum,
Vientiane Capital
Phone numbers:
+856 30 20 00 654