Tour behind the scenes of coffee production
Live the magic of Southern Laos with our Bolaven Coffee Tour, the best activity to do when visiting the Bolaven Plateau. Our Bolaven Coffee Tour includes an immersive exploration of our coffee plantation, where you may participate in the behind the scenes of harvesting and processing of the best Lao specialty coffee. Please note that this tour is only available for Sinouk Coffee Resort's customers. Therefore, all our tours start from the resort. We do not arrange tours for external guests
In order to meet with all our guests' needs and expectations, we offer unique and personalised experiences around the Lao coffee production.
FOR COFFEE AMATEURS

Deepen your coffee knowledge with a guided walk through our plantation at Sinouk Coffee Resort. Then, stimulate your senses with our beginner-friendly coffee cupping session. Situated atop the Bolaven Plateau, our plantation is run and supported by local communities, many of whom reside on the plantation. A visit there will surely guarantee a one-of-a-kind experience with the local farmers.
FOR ADVENTUROUS SPIRITS

Sign up additionally for a thrilling zipline over Tad Lane Waterfall. Sip your freshly brewed coffee while admiring the panoramic view of the Bolaven Plateau.
FOR COFFEE LOVERS

We offer a full tour around farmers inland plantations. Get the privilege to observe authentic agricultural processing as well as explore industrial facilities. In addition, the tour includes hands on activities such as coffee harvesting.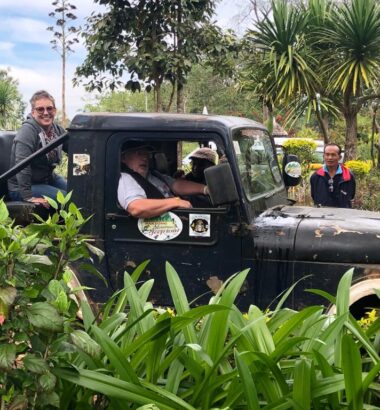 Finally, the tour is all-inclusive with meals, board and transport. If you don't have the time and prefer the convenience of having someone plan an itinerary. Or if you're traveling with a large group of family and friends, this tour is for you! Do not hesitate to visit our Resort's website. To find all the useful information related to our Resort, our tours and also promotions ! In the meantime, catch a glimpse of our Bolaven Paradise to begin your coffee exploration.