About Cafe Sinouk – Pakse
Opening bright and early at 6.30AM, we receive a number of fresh travellers and office workers stopping by for their morning coffee and breakfast. Catch your breath after a hectic flight or night bus journey and stop by Café Sinouk Pakse, just ten minutes from Pakse International Airport and few meter from the local bus station. Get connected with our speedy Wi-Fi, cool off with air con and begin planning your journey through Southern Laos.

Our kitchen serves a variety of homemade lao and international dishes that will fill your belly after a long bus ride or day trip to Champassack. A few meter from the Mekhong river, end your evening walk on our terrasse as the sun sets and sipp a cocktail from our selection. With our cosy yet tastefully designed interior and a cup of fresh coffee straight from the Bolaven Plateau, it is undoubted that Café Sinouk is one of the best in Pakse.

Wi-Fi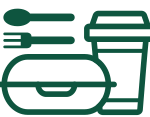 Take Away

Disabled Access

Privatisation
Address:
Thanon 11 Road,
Ban Lakmuang,
Pakse District,
Champasak Province
Phone numbers:
+856 30 956 6776